The home of the Supercharged Wins has had a makeover!
Our leading online casino brand, Slotty Vegas, has been overhauled just in time to hit the ground running in 2019. The renew version sees big improvements and is only the first of huge changes happening throughout the coming year!
SLOTTY VEGAS GETS A WHOLE NEW LOOK
For the best part of 2018, not only did we reinvent ourselves and launch Max Entertainment and Max Affiliates, but we have been working tirelessly to re-evaluate our casino brands, finding ways to improve and perfect our products. The project, that took up the majority of Q3 & Q4 throughout 2018, was to improve our casino products in terms of user experience, game portfolio, payment options being offered and so much more. We are now able to announce the first of our upcoming product improvements with the launch of our new version of Slotty Vegas!
There's a whole roadmap of new improvements to be landing throughout the year, and this is just the beginning of a long year packed with scheduled improvements!
We didn't want to completely remove the essence that makes Slotty Vegas what it is, but we wanted to compliment all of its scheduled upgrades with a banging new look. With its signature fresh & fun colours and even easier navigation, we know that the fully responsive new design will tickle the fancy of our players in all the right ways.  The minimalistic and raw identity of the product has been recaptured in its rebranding – which includes a new logo, color scheme and fluid navigation.
Site performance received a significant boost and was absolutely necessary to compliment the expansion of our game portfolio with the additions of Play'n'GO, Big Time Gaming, Betsoft, Scientific Games and the like! The fully responsive mobile version is now really where it's at, with noticeable improvements in usability and performance.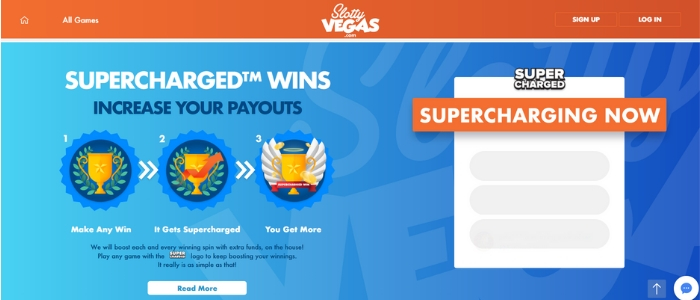 Enjoy the look so far? We're only scratching the surface.
These improvements are simply the foundation of awesome things to come! We've got loads more exciting content soon as well as new modules planned for launch this year, which include new tournaments, highly rewarding loyalty schemes as well as more surprises which will be announced very soon!
Stay tuned and happy gaming!